Two Colors
All Crochenit creations use two balls of yarn. Each color will show more on one side of the work than the other. Articles may be made in one color by using two balls of the same color.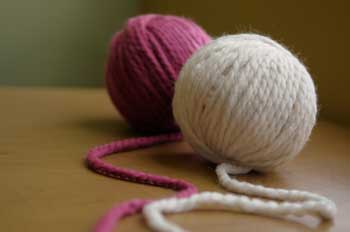 Keeping The Yarn From Twisting
To avoid yarn twisting, turn hook (TH) alternating clockwise and counterclockwise as needed to keep yarns straight.
Joining Yarn
Because this work is reversible, knots in the middle of the work should be avoided. It is better to check the amount of yarn left before starting another row. If there is less than 5 times the length of the row, tie another skein at the beginning of the row. When starting or ending allow enough yarn for fringe length so the ends will be lost with the fringe to be added later.
Best Yarns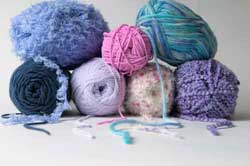 Any kind works well. Yarn can be chosen according to the stitch. Mary liked to use wool, cotton, sports yarn, baby yarn, fancy yarn, or rug yarn, and some yarns she doubled.