"It is hard for arthritic hands to hold on to small objects so the size and length of the Crochenit needle make it so much easier for arthritic hands to grasp."
Pat, Tennessee
All Crochenit patterns are specifically designed for the Crochenit needle. With just one Crochenit needle, you can create hundreds of items from small baby booties to large afghans… so there's no need to buy lots of different needles in different sizes.
The Crochenit needle is made of plastic. This is much lighter than metal and very easy to use. Fun Fact: The original Crochenit hook was made of wood and was 24 inches long. You can learn more by reading Our History.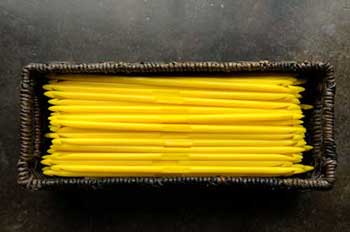 ONLY ONE NEEDLE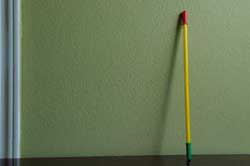 You don't need to buy many needles of different sizes to Crochenit. With just the one size needle (size M, 14 inches long), you can create items from small baby booties to large afghans. You'll love the simplicity and the savings. Each needle includes "Stitch Protectors" which fit on each end of the needle. They hold your stitches on the hook, making it possible to create
very large items
without the need for another size needle. The needle's unique tip design makes using it fast and easy.
THE DOUBLE HOOK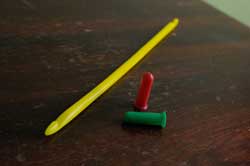 The Crochenit needle has a specially designed tip that is more pointed than a typical crochet hook or other double hooks. This makes it much faster and easier to slip through the stitches.
A hook on each end allows you to reverse the right and wrong side of the work. By alternating the use of each hook it produces unusual combinations of new stitches, some very soft and fluffy, others very heavy. The pointed ends are not sharp, so there is no increased risk of splitting the yarn when using fluffy natural fibers.
THE STITCH PROTECTORS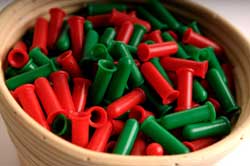 The needle comes with red and green stitch protectors, which represent
STOP
and GO. Because large articles may be made with the Crochenit needle, the red protector is used to keep the stitches from falling off while working with the other end of the needle. The stitches are pushed against the red protector and the green one is used only when setting the work aside, to keep the stitches from falling off and to show the direction to work.
Crochenit Needle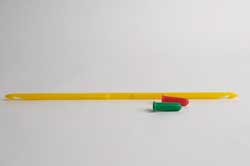 Details:
Plastic
14 inches
3/8 inch in diameter
size M
Includes Stitch Protectors
Get the Crochenit Needle for only $6.95