In 1970 a friend showed me a double hook. It was made of a 3/8" dowel with a hook on each end and was 24" long. She didn't know where it came from and only had a pattern for an afghan. I had learned the afghan stitch in Argentina, where I was raised, which is the basic stitch to start this work. I borrowed my friend's pretty baby afghan and showed it to several friends. It was a sensation, and they all wanted to learn how to make one like it. I typed the instructions and my husband and sons made the hooks from the 3/8" dowels.
In the spring of 1972 the owner of a craft shop asked me to teach a class using the double hook. 12 ladies attended the first class, but one of them dropped out saying it wasn't worth the money to buy a hook and learn just one stitch. That gave me the motivation to come up with more ideas.
My husband and I had made plans to spend a couple of weeks in Europe so he made me a hook that was only 14" long and that would fit nicely in my handbag. He also found a couple of rubber washers that would hold the stitches on the hook. They worked fine but looked terrible. All during the trip I was busy making afghans and other items.
When we returned we decided to start a business selling double hooks and patterns. We gave it the name of Crochenit and had several instruction booklets copyrighted. We had an injection mold made to make the 14" hooks in plastic, along with some plastic stitch protectors.
We advertised our product in a few magazines, but didn't have much success. In 1978 I met a lady from Paraguay and she became very excited about Crochenit. She took several hooks and books with her and said it became very popular in her country.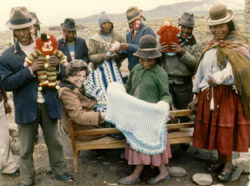 In 1980 I had the opportunity to travel to La Paz, Bolivia, where I stayed for 18 months. The climate is always cold, so the ladies were thrilled to learn to Crochenit. They made afghans, sweaters, scarves and toys. They were especially happy with the idea that it was something new from the United States and was faster and used less yarn than conventional knitting. Crochenit is still being taught in Bolivia, in private homes and schools.
Here in Provo, Utah, I have been teaching Crochenit in the Eldred Senior Citizen's Center since 1991.* The older ladies (like me) enjoy making things for their families while they socialize with friends. I have also been teaching young girls between 12 and 16 years of age. They learned to make things for themselves, family and friends. Other ladies get together to make caps, scarves, booties, mittens and afghans for Humanitarian Service.
I have published well over 20 instruction booklets with more than 200 patterns of everything that people have asked for. I have been teaching Crochenit since 1970 in many places and have taught many others how to teach it.
Please read our tribute to Mary, honoring her life and legacy.